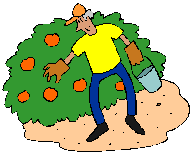 Apple And Pumpkin U-Pick Orchards in Northern Georgia in 2022, by county
Below are the U-Pick orchards and farms for apples and pumpkins that we know of in this area. Not all areas of any state, nor even every state, have apples and pumpkins orchards that are open to the public. If you know of any others, please tell us using the add a farm form!
Gilmer County
B.J. Reece Orchards - apples, pumpkins, concessions \\/ refreshment stand, restrooms, picnic area, petting zoo, farm animals, birthday parties, weddings and wedding parties, school tours, ziplines
9131 Highway 52 East, Ellijay, GA 30536. Phone: 706-276-3048. Email:

[email protected]

. Open: July 20th or around through December 20th or around from 9 am to 6 Monday - Saturday, 1 pm to 6 Sunday; During U - pick apple season we are open everyday from 9 am to 6 including Sunday. Directions: 60 miles north of Atlanta. You can come Interstate 400, or Interstate 75. Feel free to call for more detailed directions. . Click here for a map and directions. Payment: Cash, Check, Debit cards, Visa/MasterCard, Discover. . . Our market and bakery open each year around the 20th of July and remains open until around the 20th of December. (Please check website for exact dates) We open for U-pick Apples the last weekend of August and remain open until the end of October or all the apples have been pickedWe sell the last tickets to go into the orchard at 5pm each day. There is no need to make a reservation for u-pick or any farm activities, just come on up and visit us during our business hours. Picking updates: Click here for picking updates. Peaches and Nectarines in our Roadside Market are available July 25 through September 1; Peaches are not U-pick; Seasonal produce available July 25 through mid September; Apples are available August 1 until December 20 in our Roadside Market; U-pick apples are available September and October. We have Goldens, Rome Beauty, Mutsu, Reds, Arkansas Black, and Yates in our u-pick field. Payment: Cash, Check, Visa/MasterCard. We have a Petting Farm, Apple Cannons, and live Bluegrass Music in the orchard. These things will be open on the weekends only. We have other orchards that we harvest some other varieties like Gala, Empire, Jonathans, Jonagolds, Winesap, Granny Smith and Fuji. These varieties we only sell in our market and are not available for u-pick. . While the U-pick orchards are open, if you visit on Saturday or Sunday we offer lots of activities for a fun filled day on the farm! We have a Petting Farm, Pony Rides, Cow Milking, Apple Cannons, Giant Farm Slides, Wagon Rides, Jumping Pillow, Cow Train Rides, Ziplines, Scavenger Hunt through the corn maze, Pig Races and lots of yummy food to get you through the day! (UPDATED: October 3, 2020 JBS) Comments from Blake: "This is my favorite orchard in Georgia! The produce is top quality, good prices, and the staff are all exceptional pleasant!"
Comments from a visitor on October 02, 2011: "Great people! Great apples! My family love it!"
Comments from a visitor on September 10, 2009: "We went to the Reece Apple House today on a 'home-school field trip' with several other families today. Unfortunately, due to an unavoidable, unforeseeable issue (which we were told usually only effects one day every few years LOL) we were unable to pick our own apples today. However, the owner came out and explained everything to us and was VERY accommodating!! The Orchard, petting farm, and House/Store themselves are very nice, I can't wait to go back and actually pick!! This will defiantly be an annual trip for us!"
Red Apple Barn - Uses natural growing practices, apples, pumpkins, concessions \\/ refreshment stand, restrooms, picnic area, birthday parties, weddings and wedding parties, school tours, events at your location (call for info)
3379 Tails Creek Road, Ellijay, GA 30540. Phone: 706-635-5898. Email:

[email protected]

. Open: U-Pick Apples Saturdays are 10:30 am to 4 pm and Sundays from 1 pm to 4 pm. Directions: from Atlanta: Follow I-75 north to I-575 north. 575 turns into highway 515. Follow highway 515 to the first red light south of Ellijay at Long Horns. Turn left at the red light onto Howard Simmons Road. Go .6 miles and turn right on highway 5 north. Drive 1.7 miles to the red light and turn left on Ga- 282/US-76 west. Go 3.2 miles and the Red Apple Barn will be on the left. . Click here for a map and directions. Payment: Cash, Check, Visa/MasterCard, Discover.
Red Apple Barn Facebook page. . Weekday Groups by Appt. School Field Trips Call for Weekdays. Friday 10:30-1:00; Market Hours are Monday to Saturday from 9 am to 6 pm and Sunday from 12:30 pm to 5:30 pm. Fall Festivals, Cabin Rentals, Places to Eat, Zip Lines, Parks, Biking, Hiking, Tubing, Whitewater Rafting, Outdoor activities in North Georgia. The Apple House carries a wide variety of different apple products, jams, jellies, syrups, ciders and baked goods. We are not renting out spaces for Weddings/Receptions.. at this time. We have expanded for more space to shop and 'social distancing'. We are not certified organic but we do use "organic" sprays. (UPDATED: August 28, 2020)
Apple picking tips:
Apples ripen from the outside of the tree towards the center, so the apples out the outside of the tree will ripen first. Once they are picked, they stop ripening. Picking apples directly from a tree is easy. Roll the apple upwards off the branch and give a little twist; don't pull straight away from the tree. If two apples are joined together at the top, both will come away at the same time. Don't shake the trees or branches. If the apple you are trying to pick drops, (or others on the tree) go ahead and pick it up. They're perfectly fine! But do wash them before you eat them! More info: How to tell when apples are ripe
Once picked, don't throw the apples into the baskets, place them in gently, or they will bruise and go bad more quickly.
Don't wash apples until just before using to prevent spoilage.
For an explanation of why apple slices turn brown and how to stop it, see this page!
Keep apples cool after picking to increase shelf life. A cool basement is ideal, but the fruit/vegetable drawer of a refrigerator will work, too. A refrigerator is fine for small quantities of apples. Boxed apples need to be kept in a cool, dark spot where they won't freeze. Freezing ruptures all of an apple's cells, turning it into one large bruise overnight. The usual solution is to store apples in a root cellar. But root cellars often have potatoes in them: apples and potatoes should never be stored in the same room because, as they age, potatoes release an otherwise ethylene gas, which makes apples spoil faster. If you can keep the gas away from your apples, they will keep just fine. Just don't store them right next to potatoes.
Prevent contact between apples stored for the winter by wrapping them individually in sheets of newspaper. The easiest way to do this is to unfold a section of newspaper all the way and tear it into quarters. Then stack the wrapped apples. See more here: How to store apples at home
Apples don't improve or "ripen" after being picked - this is an urban myth - see this page for the truth - with references!
Which apple variety is best?
There are tens of thousands of varieties of apples, developed over centuries. They vary in sugar, acoidity, flavors, storing, crispness and many other attributes. See our guides to apple varieties:
Canning apples - fully illustrated, with step-by-step instructions
Recipes, illustrated with step by step instructions
Using fresh apples and miscellaneous
Pumpkin recipes