: include(bs/bs_hbannerad.php): failed to open stream: No such file or directory in
: include(): Failed opening 'bs/bs_hbannerad.php' for inclusion (include_path='.:/opt/cpanel/ea-php71/root/usr/share/pear') in

Warning: include(includes/introtopic.php): failed to open stream: No such file or directory in /home/picky2/public_html/gafm/gafmfpmap.htm on line 133

Warning: include(): Failed opening 'includes/introtopic.php' for inclusion (include_path='.:/opt/cpanel/ea-php71/root/usr/share/pear') in /home/picky2/public_html/gafm/gafmfpmap.htm on line 133

Map and directions to the Atlanta Georgia State Farmers Market in Forest Park, GA
Map and directions to the Georgia State Farmers Market in Forest Park, GA
Address: 16 Forest Pkwy, Forest Park, GA 30297. Phone: (404) 675-1782.
Directions: It is right next to I-75, at the second exit south of I-285 on the south side. The exit is labeled "Forest Park / Fort Gilliam", exit 237.
This sign (at left) is next to I-75, and is at least 50 ft tall.
Once you are on Forest Parkway, the entrance is on the left, only about 800 ft east of I-75. Look for this sign at the entrance.
There's a map below, and you can go the list of vendors at the farmer's market and their phone numbers here!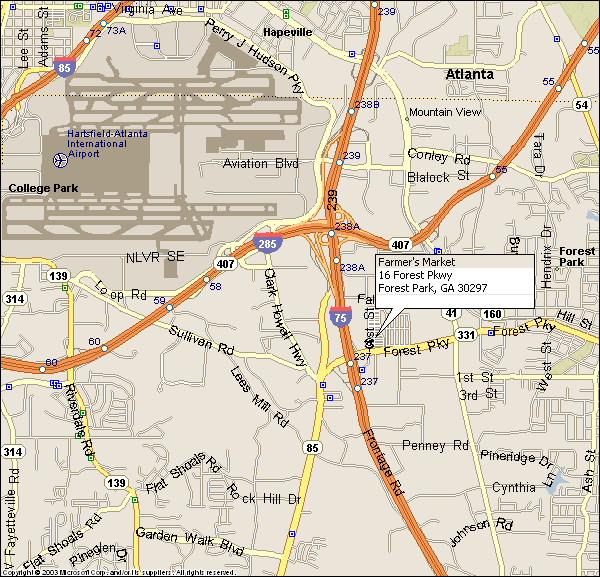 ---
Remember to ALWAYS call the farm or orchard BEFORE you go - weather, heavy picking and business conditions can always affect their hours and crops!

Warning: include(bs/bs_leftads.php): failed to open stream: No such file or directory in /home/picky2/public_html/gafm/gafmfpmap.htm on line 185

Warning: include(): Failed opening 'bs/bs_leftads.php' for inclusion (include_path='.:/opt/cpanel/ea-php71/root/usr/share/pear') in /home/picky2/public_html/gafm/gafmfpmap.htm on line 185


Warning: include(bs/bs_rightads.php): failed to open stream: No such file or directory in /home/picky2/public_html/gafm/gafmfpmap.htm on line 195

Warning: include(): Failed opening 'bs/bs_rightads.php' for inclusion (include_path='.:/opt/cpanel/ea-php71/root/usr/share/pear') in /home/picky2/public_html/gafm/gafmfpmap.htm on line 195