[Home]
[Picking tips ]

www.LocalFarmMarkets.org
Where you can find a U-pick farm near you!

[Click here to add this page to your favorites]
[Canning supplies: jars, canners, kits]]
[Vacuum Foodsealers]
[Super-easy free, illustrated home Canning, Freezing and Jam-making Instructions ]
[Books on canning, freezing, drying, preserving and jam making, etc.]
[Strainers, pit removers, etc.]
The Facebook page opens in a new window.
After you use the Facebook page, you can simply close the window (click the red X in the top right corner of the screen) to return to LocalFarmMarkets.org.
We also have our own free and simple, step-by-step, illustrated instructions on canning, freezing and drying many fruits and vegetables, such as how to make jam, apple butter, applesauce, spaghetti sauce, salsa, pickles, ketchup or freezing corn . If you are looking for Canners, mixes, jars, pectin and other canning supplies at the best prices anywhere!
Here are some easy Fall and Halloween pages you may have missed:
And for Christmas, you might be interested in these pages:
---
This page was updated on
---
Picking Tips
[General picking tips and a guide to each fruit and vegetable] [How much do I need to pick? (Yields - how much raw makes how much cooked or frozen)] [Selecting the right varieties to pick] [All about apple varieties - which to pick and why!] [Picking tips for Vegetables] [ Strawberry picking tips] [ Blueberries picking tips]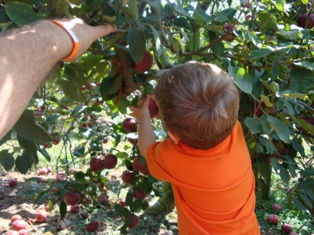 Illustrated Canning, Freezing, Jam Instructions and Recipes
[ All About Home Canning, Freezing and Making Jams, Pickles, Sauces, etc. ] [FAQs - Answers to common questions and problems] [Recommended books about home canning, jam making, drying and preserving!] [Free canning publications to download and print]
Home Canning Kits
This is the same type of standard canner that my grandmother used to make everything from applesauce to jams and jellies to tomato and spaghetti sauce. This complete kit includes everything you need and lasts for years: the canner, jar rack, jar grabber tongs, lid lifting wand, a plastic funnel, labels, bubble freer. It's much cheaper than buying the items separately. You'll never need anything else except jars & lids (and the jars are reusable)! There is also a simple kit with just the canner and rack, and a pressure canner, if you want to do vegetables (other than tomatoes). To see more canners, of different styles, makes and prices, click here!
Don't forget the Ball Blue Book!