Printing Tips
Problem: The web page doesn't fit on the printed page; it gets cut off on the right side.
Solution:
Simple:

Step1: When your print box comes up, click on the "Properties" button
(see sample figure at right. Note, your own printer's name will appear instead of "HP Laserjet 4100 Series PCL"),
Step 2: Click on "Land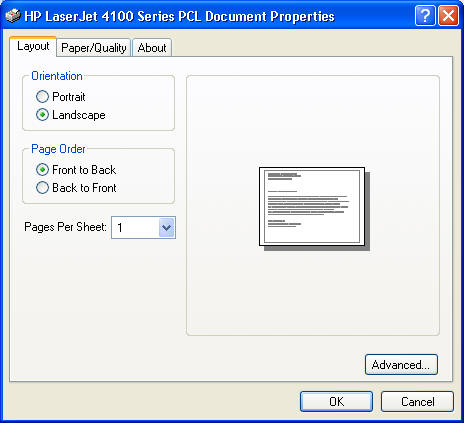 scape"
Step 3: Click "OK", you will return to the first box.
Step 4; Click "OK" again to start the print!
And more detail than your probably care about:
I've tried to size the pages to print on all printers and paper sizes, but given that each and everyone's printer is different, that's technically impossible over the internet. I'm working on using some newer technologies that adjust automatically, but there will always be a few pages that are different. Landscape mode almost always works, so it's a good temporary solution while I work on re-wrapping the website in CSS and a database! Thanks!!!
---
Lids, Rings, Jars, mixes, pectin, etc.

Need lids, rings and replacement jars? Or pectin to make jam, spaghetti sauce or salsa mix or pickle mixes? Get them all here, and usually at lower prices than your local store!

Get them all here at the best prices on the internet!

---