Address: 16 Forest Pkwy, Forest Park, GA 30297. Phone: (404) 675-1782.
Directions: It is right next to I-75, at the second exit south of I-285 on the south side. The exit is labeled "Forest Park / Fort Gilliam", exit 237.
This sign (at left) is next to I-75, and is at least 50 ft tall.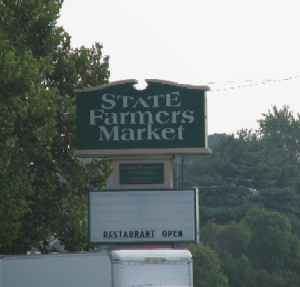 Once you are on Forest Parkway, the entrance is on the left, only about 800 ft east of I-75. Look for this sign at the entrance.
There's a map below, and you can go the list of vendors at the farmer's market and their phone numbers here!