Blueberry Buckle: Make the world's best sugarless blueberry coffee cake for any occasion with these easy instructions!
This month's notes: August 2016: Blueberries have a very brief season usually just 3 or 4 weeks (June in the South, July in the North and August in the far north). Similarly for peaches (July South or August in the North); so, don't miss them: See your state's crop availability calendar for more specific dates of upcoming crops. And see our guide to local fruit and vegetable festivals, such as tomato, corn, peach or blueberry festivals. Organic farms are identified in green! Also make your own ice cream - see How to make ice cream and ice cream making equipment and manuals. Have fun, eat healthier and better tasting, and save money by picking your own locally grown fruit and vegetables, and then using our easy canning and freezing directions
Organic farms
are identified in green! See our guide to local
fruit and vegetable festivals!
. Please tell the farms you found them here - and ask them to update their information!!
Subscribe to our:
Email alerts
;
Follow us on Twitter
Add this page to your favorites!
-
Email this page to a friend, or to yourself
---
How to make the World's Best Sugarless Blueberry Buckle - A Blueberry Coffee Cake!
Want to make the best sugar-free blueberry coffee cake you've ever had, and don't want to spend all day in the kitchen combing the Internet or studying complicated recipes or figuring out how to substitute Stevia (or if you prefer, Splenda)? I've done it for you! This is a great crumb-topping blueberry coffee cake that my mother made for December ades. I thought it was a secret Pennsylvania Dutch, Amish or Mennonite recipe, but I've since seen variations of it elsewhere. After testing a few variations, I made it sugar-free! What makes it different from other blueberry coffee cakes is: it is light; moist, filled with blueberries, has a great crumb topping and it has no added sugar. And it doesn't matter if you're not a chef or have never made a coffee cake before! Following these illustrated directions ANYONE can cook a perfect sugarless blueberry coffee cake!
Ingredients and Equipment

(per 9 inch square dish coffee cake)
Cake batter:
3/4 cup Stevia (or if you prefer, Splenda)
1/4 cup soft butter or margarine or vegetable shortening
1 egg
3/4 cup milk (nonfat, lowfat or whole; depending upon how healthy you like to be!)
2 cups flour (all-purpose white, wheat, whole grain, whatever)
2 tablespoons baking powder (this recipe uses more baking powder than the sugar recipe, to compensate for the "heaviness" that Stevia (or if you prefer, Splenda) would otherwise create)
1/2 teaspoon salt (optional)
2 cups blueberries; fresh or frozen (without syrup)
1/2 teaspoon cinnamon
Crumb topping:
3/4 cups Stevia (or if you prefer, Splenda)
1/2 cup flour (plain white, wheat, yada yada...). you can sift it, if you want...
1/2 teaspoon cinnamon
1/4 cup soft butter or margarine
Cookware
One 9 inch square baking dish OR 2 small meat loaf pans, or a round casserole dish. Grocery stores sell both disposable coffee cake and meat loaf pans and glass pans.
Step 1 - Wash the blueberries
Just rinse them in a colander or sieve in cold water, no soap.
Pick out and remove any bits of stems, leaves and soft or mushy berries. It is easiest to do this in a large bowl of water and gently run your hands through the berries as they float.
With your fingers slightly apart, you will easily feel any soft or mushy berries get caught in your fingers.
Now is also a good time to get the oven preheating to 375 F.
Step 2 - Mix the dry ingredients
Combine the 3/4 cup Stevia (or if you prefer, Splenda), 2 tablespoons baking powder, 1/2 teaspoon salt (optional) and 1/2 teaspoon cinnamon in a bowl and mix well!
Step 3 - Add the butter and the egg
Add the butter (or margarine or vegetable shortening) and the egg and using a mixer (hand, electric, or just a large spoon, whatever you have) , mix it up!
Step 4 - Mix in the milk
Add the 3/4 cups milk and mix it up.
Step 5 - Add the flour
While mixing, stir in the 2 cups of flour! (it's just like making pancakes). It may get so thick that the mixer will stop (at least my hand mixer does).
You may need to add just a little m
ore milk and finish mixing by hand. It should be the consistency of thick pancake batter. It will be thicker and more lumpy than if you used table sugar, but it will turn out right!
Step 6 - Add the blueberries and mix
Add the blueberries and gently mix it. You don't want to crush the berries, but it won't matter if some get crushed, either!
Step 7 - Grease and flour the pan(s)
Of course, nobody in their right mind uses grease or lard anymore! It just means put a thin layer of vegetable shortening, margarine or butter over the interior surface of the pan (using your fingers), and then put 1 tablespoon of flour in the pan and swirl it around so all surfaces are coated. then dump the excess flour into the trash or sink.
Step 8 - Pour the batter into the pan(s)
Just pour the batter into the the pans. It should only fill the pan about half way up! It WILL rise, don't worry!
Step 9 - Make the topping
Now to make the topping, in another bowl, mix together the topping ingredients:
3/4 cup Stevia (or if you prefer, Splenda)
1/2 cup flour
1/2 teaspoon cinnamon
1/4 cup soft butter or margarine
Step 10 - Sprinkle the crumb topping over the batter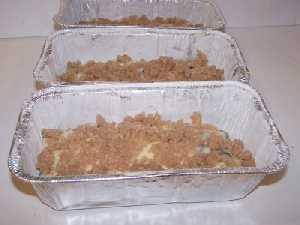 Pretty self-explanatory, don't you think?
Step 11 - Put the coffee cake in the oven!
Cook the coffee cake at 375 F (or 190 Celsius) for 45 minutes.

Step 12 - Remove when the coffee cake is golden brown
After about 35 minutes, check to see if the top is golden brown. If if not, check every 3 or 4 minutes until it is. You can stick a clean table knife in to test for doneness (if the knife comes out clean, with little or no batter sticking to it, it is done!)
Enjoy!
Set the coffee cake on a rack to cool (about 15 to 30 minutes till it firms up) and enjoy! Here is a slice of the finished coffee cake! Serve warm! It also freezes well for another day!