Step 1 - Selecting the apples
The most important step! You need apples that are sweet - NOT something like Granny Smith's. Yeah, I know you like them (why do sweet women like sour apples???) and even if I did, they still wouldn't make good applesauce - you'd have to add a lot of sugar.
Instead, choose apples that are naturally sweet, like Red Delicious, Gala, Fuji, Rome and always use a mixture - never just one type. This year I used 4 bushels of red delicious and one each of Fuji, Yellow Delicious, Gala and Rome. This meant it was so sweet I did not need to add any sugar at all. And the flavor is great! The Fuji's and Gala's give it an aromatic flavor!
Step 2 - How many apples and where to get them
You can pick your own, or buy them at the grocery store.
Step 4 -Chop the apples
With a knife cut the apples into quarters, (4 segments each).
Cut out the stem, the seeds in the center, and any hard parts around the seeds, stem and other end of the apple. Also cut out any soft brown spots!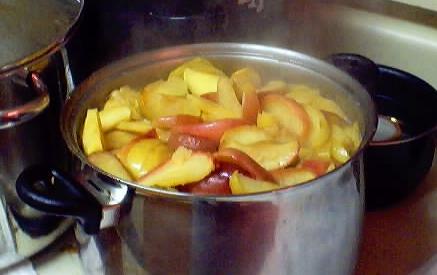 Step 5 - Cook the Apples
Pretty simple: put about 1 inch of water (I used either filtered tap water or store brand apple juice) on the bottom of a huge, thick-bottomed pot. Put the lid on, and the heat on high. When it gets really going, turn it to medium until the apples are soft through and through.
Stir vigorously if you want smooth applesauce; if you like chunky applesauce, just be gentle in stirring so you don't break up all the chunks!
You can also put them into the food processor or blender to whip them into a smooth puree!
Step 6 - Add the cinnamon!
Add cinnamon to taste. I usually add about 1/2 teaspoon per batch! If you chose sweet apples, you should not need to add any sugar.
That's it! You're done! It's great warm or cold!